There's nothing I like more than seeing spoiled little entitled brats like Lena Dunham get called out on their fraudulence.
A few weeks ago, the insufferable Dunham wrote about her "painful" experience of having to return her dog of four years, Lamby, to the animal shelter from which she adopted him from. From her Instagram:
"A lot of you have been asking where Lamby is these days since he's always been the star of my gram and I've been posting pics of my poodle girls. Well, you know honesty is my jam but this one has been really heartbreaking to talk about. But I feel I have to share that last March, after four years of challenging behavior and aggression that could not be treated with training or medication or consistent loving dog ownership, Lamby went to live at an amazing professional facility in Los Angeles @matt_thezendog where an awesome person named @therealdanishay (who is educated in a rescue dog's specific trauma) loves him so hard. Lamby suffered terrible abuse as a pup that made having him in a typical home environment dangerous to him and others- we needed to be responsible to ourselves, our neighbors and especially our beloved boy. Jack and I will miss him forever but sometimes when you love something you have to let it go (especially when it requires tetanus shots and stitches.) Someday I'll really write about the pain and relief of letting Lamby go off and really be Lamby, biting and peeing in his own mouth and all. There were so many lessons in it, about forgiving myself and loving with an open palm and giving in to a larger plan. Shout out to @jennikonner for listening to endless hours of Lamby pain, and especially my partner @jackantonoff for loving him even when he ruined floors and couches and our life."-Lena Dunham
Lamby, (and the) the insufferable mutt: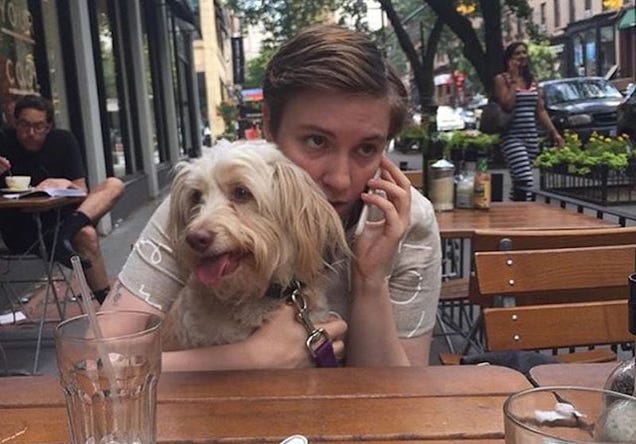 When you love something you have to let it go, especially when it involves tetanus shots and stitches?! Is she for real? By this account, I should have given up my geriatric kitties years ago. I got put on Augmentin twice! She calls her pain about this "Lamby pain" (spare me the theatrics) and how someday she'll "be Lamby biting and peeing in her own mouth". Only a vile creature such as Lena Dunham would even think of this!
While Dunham shared her pain, she did not expect the shelter to retaliate and call her out on her own BS and here is where the plot thickens. And, enter stage left-a Yahoo! Celebrity e-mail from BARC Shelter Representative, Robert Vasquez:
"We checked the records for Lamby," [BARC Shelter representative] Robert Vazquez told Yahoo Celebrity via email. "He was 'owner surrendered, not enough time,' so we do not know where she got 'multiple owners that abused the dog.'" (In her New Yorker piece from March 2013, Dunham said the dog had "three other homes, three other names, but now he's mine mine mine.")

At the time of his adoption by the star, the dog was just 1 "nearing 2-years-old" — and he didn't have a history of being aggressive."
And this:
"When she adopted the dog from us, it wasn't crazy," Vazquez continued. "I have pictures of the dog loving on Lena and her mom, which is weird if the dog was abused. It wouldn't be cuddling with her or be in the bed with her 'boyfriend' in the pages of Vogue."
Here's a picture of the "vicious beast" (I'm talking Lena, not Lamby):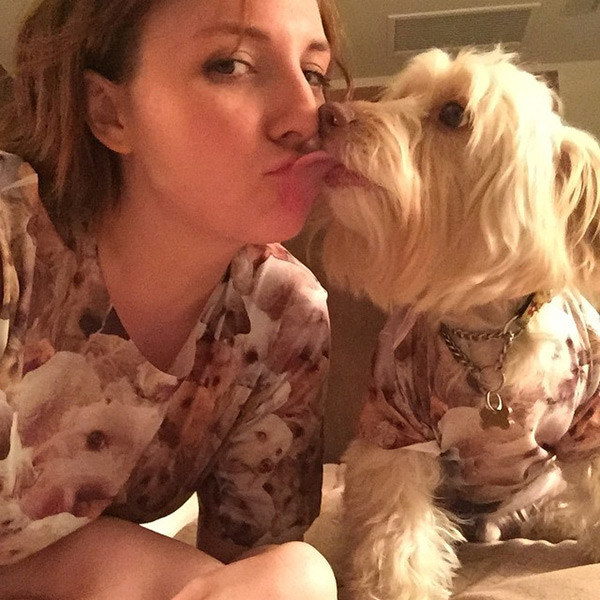 This was the icing on the cake:
"It's just hard to believe the dog was nasty when she took Lamby to every green room with her when Girls was still a thing 4 years ago."
the real winner of the lena dunham dog story is the dog who doesn't have to live with lena dunham anymore

— sargon of ACAB 🚩 (@DOGGEAUX) July 7, 2017
I think the true story about Lena Dunham's dog is that he just up and left after being subjected to 4 years of her attempts at humor.

— Joseph Zucker (@JosephZucker) July 6, 2017
So Lena Dunham adopted a dog and rather than getting it training she rehomed it. 😡 It's called a forever home! https://t.co/8fSsIvihjD

— Angela M DiLoreto (@AngelaMDiLoreto) June 27, 2017
Rumor has it that Dunham traded up her beloved Lamby for two new pups. Let's call things the way we see 'em, Lena. You were tired of poor Lamby and did not have the moral fortitude and are too darn slovenly and lazy to deal with a innocent canine with some challenging behaviors. There are, albeit expensive but I think you can afford it, schools and trainers that come to your home to aid in loving discipline and putting those bad behaviors to a stop but this woman does not even have a brain to even think of this option, apparently. I hope those new puppies pee all over your bed so you can "re-home" them to people who deserve to have them. Ahhh-if only dogs could talk:
"It's not me, it's you"-Lamby
#AdoptLamby. I have no doubt that Lamby will get adopted and will have a fabulous life away from the clutches of that sea hag (I know, I'm insulting sea hags) and enjoy doggie heaven on Earth. He looks like a sweet boy. All dogs go to heaven. Lena Dunham can seriously burn in hell.